buyer information
purchases | private treaty | sponsors
contract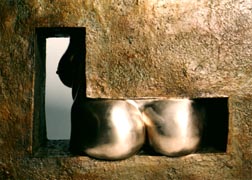 The purchase and ownership of an original work of art has many variables and considerations which affect its value, such as: the buyer, the medium, the level of technical proficency, the position the Work may hold in a larger group of works, it's content, or any combination of these elements.
The mechanics of purchasing original works of art include some responsibilities. Artworks are used for enjoyment, investment, or even philanthropy.
An Artwork's value increases with the artist's involvement in its creation. For example, most artists do not actually produce prints of their Artworks, they contract-out production of print editions. Lynn Earnest's etchings offered for sale here are produced by the artist, and are guaranteed by the "INT" logo found after the print and edition numbers. This indicates the print is 'pulled' by the artist. This simple feature makes these etchings "original works of art" increasing their value.
Another example of increased value lies in provenance established by interpretation of experts. Mr. Cook, then Curator of Painting at the National Gallery of Art in Washington, DC., classified Lynn Earnest's batiks as monoprint paintings, because, he stated, "they are produced as one-of-a-kind Artworks through using a resist dying techique (monoprinting), and applying the resist medium with a brush (painting)." This gives the Artworks established "provenance" by virtue of his assessment. To purchase these originals, review purchases.
purchases:
Options for purchasing Artworks which are offered for sale by Lynn Earnest are:
direct purchase;

The simplist method is a direct purchase. When you find an artwork which inspires you, just click the 'buy now' button, print a contract copy as stipulated, and send the signed contract. All shipping and insurance is included in the purchase fee. If you have any questions about any of the Artworks, please feel free to contact Lynn Earnest directly.

bid-purchasing;

From time to time there may be an opportunity to purchase major artworks through bidding, whereas, interested buyers submit bid offers to purchase artworks. The bid would be considered by the artist at a specified time. At this point no bid items are for sale.

investing purchases;

Buyers seeking purchase of artworks for investment returns at a later date would be subject to the same "Agreement of Original Transfer of Work of Art" contract as all others. It is worth quoting the husband of one original artwork owner, a stock broker of some repute, "this artwork is the highest return investment on the dollar, of any item in my portfolio!".

other options;

These include arrangements through the artist for purchase of a second artwork using the first as equity on a later purchase. For example, a prior purchase with contract verification would allow the owner to "trade" the first purchase at its original contracted purchase value toward a second Artwork of the same or greater value. This option allows collectors to "change" or "exchange" one original work of art by Lynn Earnest toward the purchase of the second.

There may be periodic resale of investor-owned artworks, for resale by the artist or an outside dealer, as long as the terms of the "Agreement of Original Transfer of Work of Art" are honored.
private treaty:
The private treaty option is a special arrangement for original works of art designated as museum quality Artworks. These pieces are valued at a higher rate and require custom arrangements tailored for such things as the periodic exhibition, access, or location of the specific piece, its provenence, and/or its security. Pieces purchased through this option require contract negotiations for the actual amount of the artwork, any charitable contribution to a museum or special site, sponsorships and/or actual negotiations for museum purchases or sponsored exhibition tours. All arrangements surrounding the Private Treaty are negotiable.
sponsors:
Sponsors are major supporters of the artist. They purchase a major work and/or underwrite costs associated with exhibitions. Sponsors may include individuals; collectors of a particular artist's works; investors who hope to make a profit in resale; or a corporation who aligns with certain issues, the artist, or the quality of the works. Sponsors finance exhibitions, support exhibit tours and/or purchase particular works for the museum's permanent collection.
The artworks of Lynn Earnest are available for immediate sale and sponsorship. Sponsors may underwrite the production of new artworks scheduled in a series. Examples of Series Options currently available for underwriting are: Spirit Changes (watercolors), Infinity (etchings) and Diritti Umani (bronze sculptures). Sponsors may purchase artworks for their own collections or for charitable, philanthropic contributions to a museum of their choice.
Please contact the artist if you or your organization is interested in, or qualifies for, underwriting exhibitions.
contract:
All of Lynn Earnest's original artworks, come with an "Agreement of Original Transfer of Work of Art". This contractual agreement is made between the artist and the purchaser, or owner. The agreement insures such things as the artist's intellectual property copyright, the owner's investment options, guarenteed returns on resale, care, and exhibition arrangements and transportation insurance for the artwork. It is a safety measure for artist and investor alike.
Printable Agreement of Original Transfer of Work of Art. To return to this web site, click the 'return' arrow at upper left of the .pdf contract page.